In the realm of precision engineering, finding the right bearing manufacturers is crucial, as accuracy and reliability are paramount.  precision bearings emerge as fundamental components shaping the backbone of various industries. These unsung heroes play a vital role in ensuring the smooth and accurate operation of machinery and instruments across diverse sectors.
In this blog, we will explore the significance of precision bearings, their unique features, and their wide-ranging applications in the modern industrial landscape.
Understanding Precision Bearings
Precision bearings, a specialized class of rolling bearings, are meticulously engineered to deliver exceptional accuracy and smooth motion. Unlike standard bearings, these components adhere to stringent standards and specific performance criteria. Their design aims to minimize friction, reduce noise, and maintain dimensional stability even under the most demanding conditions. For industries, finding reliable Bearings and bushes suppliers is crucial, as these precision bearings play a vital role in ensuring the efficiency and accuracy of various machinery and instruments.
Tolerance and Fit
Precision bearings stand out due to their meticulous manufacturing process, which involves tight tolerance levels. These bearings are engineered with precision, ensuring minimal clearance and impeccable fitment within machinery. The minimized play between components guarantees precise alignment, crucial for the seamless operation of high-precision equipment. This meticulous approach to tolerance and fitment ensures that even in the most demanding environments, precision bearings deliver consistent performance and longevity.
Material Selection
The choice of materials is a fundamental aspect of precision bearing design. High-quality materials, such as stainless steel or ceramics, are meticulously selected to enhance the bearings' overall durability and performance. Stainless steel bearings offer exceptional corrosion resistance, ensuring longevity even in harsh environments. Ceramic bearings, known for their remarkable hardness and low friction properties, are ideal for applications requiring high-speed and precision. The careful selection of materials in precision bearings ensures resistance against wear, allowing them to endure extreme conditions without compromising functionality.
Lubrication
Precision bearings are pre-lubricated with specialized greases or oils during the manufacturing process. This strategic lubrication serves as a vital component in ensuring the smooth operation of the bearings. The lubricant forms a protective layer, reducing friction between moving parts and minimizing wear. Proper lubrication not only enhances the bearings' efficiency but also significantly extends their service life. By employing the right lubrication techniques, precision bearings maintain their performance integrity, even under heavy loads and continuous usage.
Cage Design
The cage design within precision bearings is a testament to advanced engineering. Optimized for reduced friction and consistent ball or roller spacing, the cage ensures the uniform movement of elements within the bearing. By minimizing friction, the cage design allows for smooth rotation and motion control, essential for precision machinery and instruments. This optimized design not only enhances the bearings' efficiency but also contributes to energy conservation, making them ideal for applications where precision and sustainability are paramount.
Sealing and Shielding
Precision bearings are equipped with advanced sealing and shielding mechanisms to safeguard them from contaminants. These protective measures create a barrier, preventing dust, moisture, and other particulates from infiltrating the bearing assembly. The effectiveness of these seals and shields ensures that the internal components remain uncontaminated, preserving the bearings' functionality and prolonging their lifespan. By maintaining a clean and protected internal environment, precision bearings exhibit exceptional reliability, making them suitable for critical applications where even the slightest compromise is unacceptable.
---
Read More: Exploring the Distinctions: Plain Bearings vs. Ball Bearings
---
Role in Precision Machinery
Precision bearings serve as linchpins in precision machinery, enabling seamless and precise movement. They are integral components in various sectors, including:
Aerospace and Defense
Precision bearings are the backbone of aerospace and defense technologies, providing critical support in aircraft engines, radar systems, and gyroscopes. In the high-stakes environment of aerospace, these bearings ensure not only the smooth operation of vital components but also the safety and efficiency of aircraft. They enable the precise movement of mechanical parts, ensuring optimal performance and reliability in every mission, from commercial flights to military operations.
Medical Devices
In the realm of medical devices, precision bearings are essential components, especially in medical imaging equipment, robotic surgical systems, and prosthetic devices. The accuracy and reliability of these bearings are paramount in medical procedures, ensuring the precision of diagnoses and the success of surgical operations. Whether in MRI machines, robotic arms for surgeries, or prosthetic limbs, precision bearings guarantee the seamless functioning of life-saving medical technologies.
Semiconductor Manufacturing
Precision bearings play a crucial role in semiconductor manufacturing, where precision is measured in microns. These bearings facilitate intricate movements in wafer handling and precision testing processes, ensuring defect-free semiconductor production. By providing stable and precise motion, they contribute to the creation of flawless microchips and electronic components, driving advancements in technology and communication.
Robotics and Automation
The field of robotics and automation relies heavily on precision bearings to enable smooth and accurate movements in robot joints and actuators. In industrial automation, assembly lines, and research applications, these bearings are vital. They ensure the efficiency and repeatability of robotic tasks, allowing machines to perform intricate movements with reliability. This precision is especially critical in industries where automation enhances productivity and streamlines complex processes.
Construction
Precision bearings are indispensable in the construction industry, serving in cranes, earthmoving equipment, and tunnel boring machines. In the construction of skyscrapers, bridges, and tunnels, these bearings enable precise operations on a large scale. Cranes equipped with precision bearings can lift heavy loads with stability and accuracy. Earthmoving equipment, such as excavators, relies on these bearings for precise control during excavation and material handling. Tunnel boring machines, essential for urban infrastructure development, use precision bearings to maintain accurate tunnel diameters and alignments.
Agricultural Machinery
In the agricultural sector, where efficiency is paramount, precision bearings play a pivotal role. They are key components in tractors, harvesters, irrigation systems, and seed drills. Precision bearings in agricultural machinery ensure optimal performance and productivity. In tractors, these bearings facilitate smooth movements in wheels and axles, reducing energy consumption and improving fuel efficiency. Harvesters equipped with precision bearings enhance the efficiency of crop harvesting, while irrigation systems rely on these bearings for precise water distribution, minimizing wastage and ensuring uniform irrigation.
Automotive
Precision bearings are fundamental to the automotive industry, serving in steering systems, transmissions, and engines. These bearings are responsible for ensuring smooth rides and fuel efficiency in vehicles. In steering systems, they enable precise movements, ensuring responsive and safe driving experiences. Transmissions rely on precision bearings for smooth gear shifts and efficient power transfer. Within engines, these bearings reduce friction and ensure the smooth rotation of components, contributing to the overall performance and longevity of the vehicle.
---
Recommended Reading: Understanding The Growing Demand For Ball and Roller Bearings In Manufacturing
---
Hi-Bond Bearing Manufacturers: Your Trusted Partners in Precision Engineering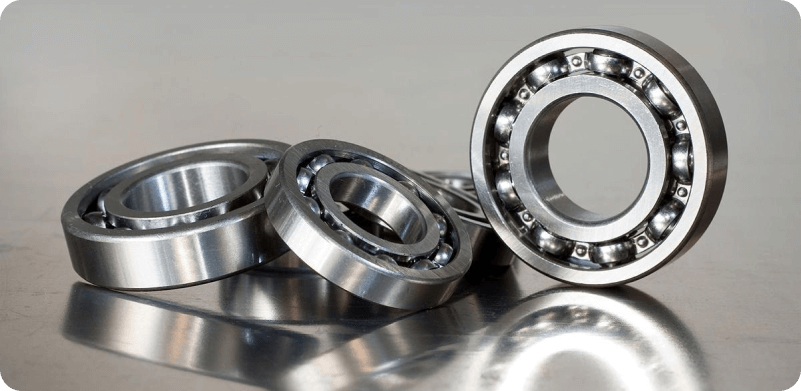 Unlock the potential of your high-precision machinery and instruments with Hi-bond Bearings Pvt. Ltd., the leading bearing manufacturing company in the realm of bearings and bushings. Our precision bearings not only facilitate precise positioning and motion control but also boast exceptional features tailored for a wide array of precision applications. With over 35 years of expertise, we stand as pioneers in the industry. As dedicated bearing manufacturers and suppliers, we cater to diverse sectors, ensuring seamless operations in every project. Contact us today to experience the unmatched quality and reliability of our products. Trust in Hi-bond, your ultimate destination for superior bearings and bushings.
FAQs:
1. What is Precision Bearing?
A precision bearing, also known as a high-precision bearing, is an engineered component designed to offer exceptional accuracy, smooth motion, and reliable performance in various machinery and instruments. Unlike standard bearings, precision bearings are manufactured with tight tolerance levels, ensuring minimal clearance and precise fitment within the machinery. These bearings play a pivotal role in high-precision applications where even the slightest deviation can lead to significant consequences. They are commonly used in industries such as aerospace, medical devices, semiconductor manufacturing, robotics, and automotive, where precision and reliability are paramount.
2. What are Precision Bearings Used For?
Precision bearings find extensive applications in different sectors due to their ability to facilitate precise positioning and motion control. They are crucial components in industries such as aerospace and defense, medical devices, semiconductor manufacturing, robotics and automation, construction, agricultural machinery, and automotive. In aerospace, they are used in aircraft engines, radar systems, and gyroscopes, ensuring safe and efficient operations. In medical devices, precision bearings are essential in medical imaging equipment, robotic surgical systems, and prosthetic devices, ensuring precision in diagnoses and procedures. These bearings are also vital in semiconductor manufacturing for intricate movements in wafer handling and precision testing, ensuring defect-free semiconductor production.