There are not many pieces of machinery in the world that do not accommodate a bearing. From a skateboard to aircraft, bearings are well, universal. Its extensive use means it also accumulates fatigue. What next?
Is it necessary to refurbishing your bearings? Bearing replacement or refurbishing is essential for the smooth functioning of the parts and their proper usage. Maintaining them can increase the lifespan of the parts, and you can use them henceforth. 
But if you do not pay proper attention, the next option is to replace the bearings. Replacement of bearings for machinery is expensive. Considering its voluminous presence, replacing bearings is not an ideal solution.
So the other way out is to opt for refurbishing as it can help save a lot of money? 
Later, searching for reliable bearings and bushes suppliers might be the next concern. 
Is bearing refurbishment a cost-efficient option?
Many people are unsure of considering bearing refurbishment as an ideal solution. Also, not many know the price difference between the refurbishing and replacing of bearings.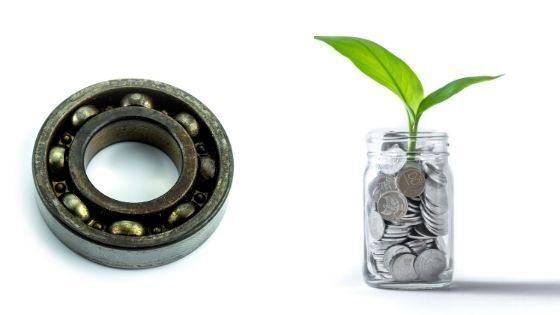 On average, refurbishing saves 80% of the replacement cost. When you can save so much money on one bearing, imagine the amount you could save by refurbishing all bearings and parts. Isn't it motivating to search for the best bearing manufacturing company?
Every application or industry comprises various styles of rolled or spherical bearings. And they are used at the heart of several machines' functioning. Bearings and bushes suppliers can help you determine the various other bearings styles.
Furthermore, when should you consider refurbishing the bearings?
Certain signs help in identifying bearings that need refurbishing or replacement.
Excessive noise

Contamination

Irregularities in bearings' temperature

Excessive vibration
There are certain tips for how to replace the bearings before failure. Understanding the bearings' health and its indicators shall assist you in eliminating chances of bearing failure.
There are few bearings that are well suited for refurbishment purposes. Some of them are:
Cylindrical Roller bearings
Whilst these are bearing types that are commonly used, they are not the only options. The perfect bearing depends on the load, functioning, and frequency of use.
If you have any bearings that are getting worn out and call for refurbishment, then follow the steps stated here:
Disassemble the complete bearing
Close inspection from inside
For a thorough inspection, you need a visual device to measure the ring hardness and other assessments of its dimensions. After completing the review, you need to decide the scrape rates of the bearings. This provides enough clarity to decide whether refurbishing is feasible or not.
Most often than not, refurbishing is the ideal solution. However, if the bearing used is very specific to the machine, replacing it with a newer one is advised.
What is the process of refurbishing your bearings all about?
There are five basic steps that every bearings and bushes supplier follows. It helps them to derive the best quality refurbished bearings. 
Proper polishing and grinding of the bearing sides, outside diameter, and bore diameter. 

Polishing and regrinding of the surrounding surfaces along with their actual dimensions. 

Utilizing new rolling elements for refitting the bearings. 

Inspecting the cages and replacing them if required. 

Reassembling of the bearings. 
After the refurbished bearings get ready, there would be a report and a limited warranty attached to it.
Can bearing refurbishment save your business money?
The aforementioned benefits are lucrative for any factory looking to replace its bearings. Alongside, the process that a bearing manufacturing company follows in designing the bearings is detailed. This ensures that refurbishment of bearings is a viable prospect. 
Isn't your business expenses shooting up due to constant bearing replacements? Refurbishment of bearing can be a great solution that increases the lifespan of the bearings. 
The majority of the companies are switching to sustainability through bearings refurbishment. They aid in saving a lot of money and select the proper application for you. If you are also looking out for some money-saving deals on your old bearings, then their refurbishment is the ideal option.
How bearings and bushes suppliers help you save money?
Refurbishment of bearings is a tricky thing as you first need to assess if they can get remanufactured or not. Experts can check the condition of rings and rollers inside them. They use advanced techniques like micro-fissures and ultrasonic methods for this. If you think that the bearings are suitable for refurbishment, then the next step is to look for a bearing manufacturing company. They can dismantle, ground, polish, and then reuse the bearings.
Yet, not all the bearings are suitable for refurbishment. As it is an affordable choice, most business owners opt for this alternative to use the old bearing. Besides, it aids in sustainability and also cuts down maintenance costs. 
Bearings and bushes suppliers consider bearing refurbishment as a trusted way to re-utilize the old bearings. But only if they are in refurbishing condition. But, only the learned experts can determine whether your bearings can be subjected to refurbishment or not. 
Hence, you need to contact a bearing manufacturing company around you who can help in this determination.
Reach out to the experts:
Hi bond is one such bearing manufacturing company that provides this service. With several companies providing the same, why should you opt for Hi bond?
30 years of industry experience

State of the art infrastructure

Genuine assessment

Market experts' analysis

Best value for money bearings
These are not just achievements that are being flaunted. But, these are pillars on which Hi bond has stood to become market leaders in the Indian bearing manufacturing sector.