Bronze Bushings are fundamental components of industries. Though insignificant in size, its importance is only known in its absence. Most machines, if not all, consist of either bushings or bearings.
Bushings find their application in a diverse range. This enormity of usage also calls for ultimate efficiency from the bearing bushing. 
The efficiency of bushings depends on two facets.
1. Right bushing for the right application
From the material used to the size of the bushing, every feature and size has its impact. Finding the right fit for the use is of utmost importance.
2. Lubrication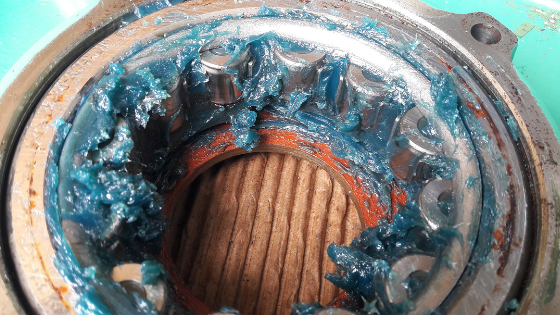 The basic function of a bushing is to reduce friction in a movement. And lubricants reduce friction between the adjacent components of the machinery.
Lubrication has more importance, over and above only reducing friction. 
So, Why is lubrication important?
It prevents bushings and bearings from corroding.

For varying loads and movement, lubricants act as a stabilizer.

It reduces the wear and tear of bearings.

The lifespan of the bearing is majorly dependent on lubrication.
These are vital benefits achieved by proper lubrication of bearings. Any bearing manufacturing company shall attest to the fact that lubrication is a non-negotiable factor of bearings' functioning.
Now, let us delve into a specific material used for bushings — Bronze. Bronze bushings are pretty common and are used for several purposes. From mining to agriculture, bronze bushings find their application.
3. Bronze bushings
These are hollow cylindrical components like a sliding bearing whose objective is to provide spindle support. Bronze is used as a primary material, thanks to its flexibility. It can be used to form diverse compositions and alloys.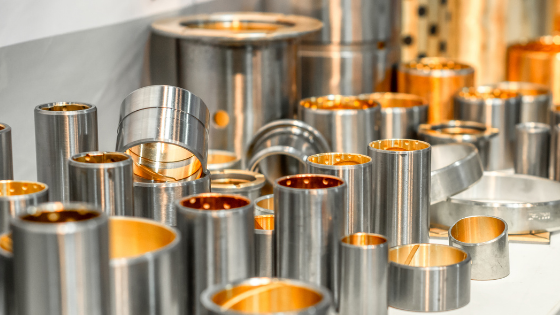 Bronze bushings outperform another common type of bearings i.e. brass bearings by a mile. The tensile strength and hardness of bronze are not matched by its brass counterparts. The latter is a softer material with a high tendency to deform under load.
And undeniably, bronze bushings have a longer lifespan. They efficiently resist corrosion, impact, and wear. 
Applications of bronze bushings
Bronze bushings are used in various machinery, commonly those which are of high load and low speed. 
Food processing

Steel manufacturing

Injection molding

Automotive machines

Earth-moving machinery

Pumps

Iron manufacturing

Marine applications

Valves

Turbines
How much grease is required to lubricate a bronze bushing?
The only real disadvantage bronze bushings face is the need for lubrication. And they require lubricants to be applied generously at regular intervals. Though this may seem like a hassle, more often than not, the benefits outweigh this hassle.
Oftentimes, oil is used as a lubricant but it is not sustainable. For any application with a substantial load, grease is a must.
Note that no bearing manufacturer can not quote a certain amount of grease or lubricant as 'required' for a bronze bushing.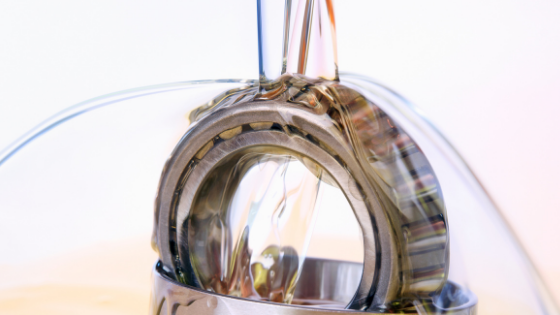 But, over years, the volume of grease used shall amount to an astounding figure. 
And applying grease does not always benefit the bearings' lifespan. If there is lots of residual grease inside the bushing, they are prone to seizure and other derailments.
Also, when lubricants are applied consistently, the need for repair and maintenance grows alongside. As both grease and oil attract contaminants, cleaning them is a huge task.
Self-lubricating bushings
Nowadays, industries are welcoming frugal alternatives for bronze bushings. Apart from plastic, self-lubricated bushings are gaining traction across the global market.
And rightfully, these bushings do not need re-lubrication or grease. However, the performance of bearing bushing is not sacrificed.
How do self-lubricating bushings work?
This system involves the transfer of tiny amounts of lubricants into the shaft or the rail. This is where the two surfaces come in contact during the movement. 
By transferring the lubricants, a thin film is created on the shaft that reduces friction across the surface.
This is an ongoing function of this system which continues throughout the bearings' life. 
Certain materials are used to produce self-lubricating bearings that use a smearing system. Some of them are Rulon, Fluorosint, PTFE blends, Delrin, and others.
In this system, the polymers deposit tiny bits of the viscous lubricants in between the shaft and bearing. The debris remains on the face between the moving surfaces making the movement seamless. Since the debris does not subside into the component, the efficacy is lost. Over time, the debris turns into residue and tends to wear the bushing down.
This system is comparatively less efficient than a smearing system. However, it is inexpensive than the smearing system.
Furthermore, there are materials that debris systems use in particular. Nylon 6/6, Acetal, Cast nylons, UHMW are some of those materials.
If you or your firm is looking to invest in quality bearings, a trustworthy bearing manufacturer is a must. With years of producing quality bearings, Hi-bond is one of the leading bearing manufacturers in India.