When two objects rotate about the centerline of an object but not in a straight line, a thrust bearing is needed to keep the shaft centered. A thrust bearing is a bearing on which a shaft is thrust axially against another part. 
It is a type of rolling-element bearing that permits rotation about an axis parallel to the bearing axis. Thrust bearings can support axial loads, thrust, or moment. 
The bearing is designed to allow axial loads in both directions. This type of bearing is used whenever axial loads are applied to the shaft. Thrust bearings provide high rigidity, high stiffness, and high speed.
Thrust bearings have a vast range of applications, including mining, car manufacturing, medical, and aerospace. 
In this blog, we'll see in detail how to thrust bearings work, their types and how to pick the right one for your application.
How Do Thrust Bearings Work?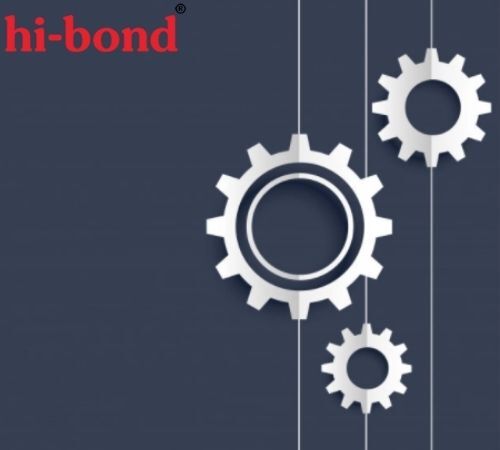 Thrust bearings usually include a shaft, a cage, a thrust washer, a thrust ball bearing, and a nut. A thrust bearing can provide axial support, provide rotational support, and dissipate axial thrust. Thrust bearings are distinguished by the support they provide. 
They can support rolling elements, such as balls, rollers, or cylindrical rollers.

They can support axial forces, such as hydraulic or pneumatic cylinders. 

They can also support rotational forces, such as from an electric motor or engine.
In a thrust bearing assembly, the thrust washer is located between the cage and the shaft. The thrust washer distributes the axial force applied by the shaft across the cage. The thrust washer also prevents any axial movement of the cage relative to the shaft.
Thrust ball bearings are often used to support and rotate shafts. They are composed of an inner ring, outer ring, and balls. The balls are pressed tightly together in the inner and outer rings. The outer ring is stationary, while the inner ring rotates. The balls roll freely between the inner and outer rings, and the balls inhibit the axial movement of the shaft.
How to Choose Thrust Bearings?
Thrust bearings are identified by: 
The size of the bearing ring (the outer diameter), 

The bearing material,

The bearing shape,

The location of the bearing,

The thrust washer and 

The clearance between the raceway and the shaft. 
Thrust bearings are usually made from stainless steel, but they can also be made from carbon steel. Thrust bearings can be found in a variety of shapes, such as cylindrical, conical, and spherical.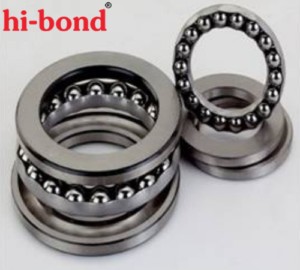 Thrust bearings are classified by load rating and thrust load rating. You can find these details from the bearing manufacturer. 
Thrust bearings can also be classified by their shaft alignment. Shaft alignment is determined by the location of the thrust washer on the mounting surface of the bearing.
Our engineers at Hi-Bond help every one of our clients to choose the right type of thrust bearing based on these and several other elements. We are reliable bearing and bushes suppliers for many companies due to our attention to detail to help identify and procure the suitable thrust bearings based on the location and usage.
What Are the Types of Thrust Bearings?
There are many different types of thrust bearings and they can be broken down into three subcategories:
Cylindrical Thrust Bearings
Cylindrical thrust bearings are the simplest and most widely used type of thrust bearing. They are formed with a cylindrical housing with rollers and cages. Generally, cylindrical thrust bearings are used in lower thrust applications.
Tapered Thrust Bearings
Tapered thrust bearings are the most commonly used type of thrust bearing. They are formed with a tapered housing with rollers and cages. Tapered thrust bearings are designed to accommodate combined loads, i.e., simultaneously acting radial and axial loads.
Spherical Thrust Bearings 
Spherical roller thrust bearings offer the highest load rating density of all thrust bearings.
Based on these types, there are several types you can choose from: flange bearings, linear sleeve bearings, needle roller bearings with metal bushings and a lot more.
How to Take Care of Thrust Bearings?
Thrust bearings have unique design requirements. They include:
High axial load capacity

High-speed rotation capability

High misalignment tolerance

Low friction

Low axial play
But there are also life-changing certain situations that can change the properties of thrust bearings and make them malfunction. 
Thrust bearing failure typically occurs in one of two places:
The thrust bearing may crack, break, deform, or separate from the shaft.

The thrust bearing may distort the outer ring, causing a portion to ride over the thrust washer.
1. Misalignment
One of the common reasons for thrust bearings failing is when the shaft they are supporting is misaligned. The thrust bearings are designed to support thrust loads applied on the shaft. When misalignment occurs, the thrust load becomes unbalanced, which places heavy torques on the bearing.
2. Contamination
Thrust bearings are prone to contamination. 
They are designed to withstand the shock loads and high flying speeds, and unlike radial bearings, they do not rotate. Instead, they bear the load of the aircraft as it turns. Thrust bearings are mounted in a fixed position, so debris that collects can block them from rotating. If the bearing is not entirely sealed, contaminants can creep in and destroy it.
And this can lead to thrust bearing failure. 
3. Excessive Loads
Thrust bearings can also fail when subjected to excessive thrust loads. The thrust loads should be evenly balanced between the inner and outer rings and between the races. 
Thrust bearing failure can lead to equipment failure, so it is important to install and maintain thrust bearings properly. When installing or removing a thrust bearing, always consult the manual provided by the bearing manufacturers.
At Hi-Bond, we offer various designs of thrust bearings of the highest quality. We help you choose the right one based on an exhaustive list of features to ensure that the bearings fit in well with your requirements. We are an experienced bearing manufacturing company that has supplied bearings for businesses from all over the world. 
Reach out to us now to get a quote for your bearing needs.